Today's story lets us hear some voices from Equestria's past.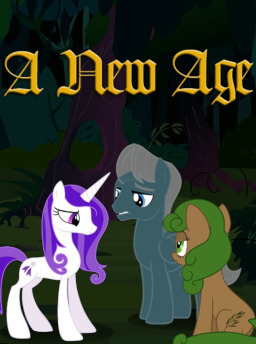 A New Age
[Dark] [Drama] • 14,963 words
In the closing days of the Pre-Classical Era, at the dawn of the rule of the Royal Pony Sisters, the devastation of Discord's cruelty hits hard and leaves an open wound. As the young and inexperienced Princesses Celestia and Luna struggle to keep the peace, powerful figures in all three Pony tribes bridle at the upstart Alicorns who so quickly and easily claimed power…
FROM THE CURATORS: Epistolary stories present a number of unique problems to a writer, but sometimes confining the narrative to letters written by the characters is the best approach to take.  And when Soge praised this story for "managing to showcase a variety of points of view from a number of very distinctive characters, all of which have great voicing and believable motivations," the rest of us had to agree.
"Absolutely necessary from a storytelling perspective," Chris said, while Present Perfect called attention to "the variety of media… the stories told, the multiple crumbling tragedies" and called the whole piece "unspeakably awesome."
"The characters are perfectly voiced throughout," AugieDog noted with Chris calling them "sometimes petty, sometimes poignant, but invariably fascinating." "The way that the author weaves in and out of show canon, while simultaneously doing a ton of world building was particularly masterful," Soge concluded. "But what really clinched the nomination for me is how, from so many disparate parts, a full narrative emerges."
Read on for our author interview, in which SaddlesoapOpera discusses fictional vacuums, plausible reliability, and the earthy aspects of earth ponies.
Continue reading →