Like the titular tree of today's story, this farmer's tale has deep roots.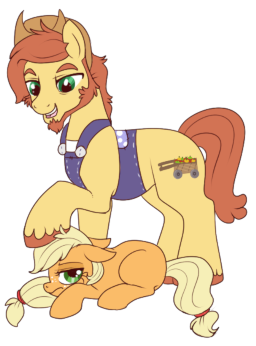 Under a Tree
[Slice of Life] • 13,558 words
Applejack tells Fluttershy about the great oak tree atop a hill on the farm. It was the first one she ever planted, y'see. That doesn't have anything to do with why Granny Smith is in the hospital, and why Applejack isn't there.
Nope. Not at all.
FROM THE CURATORS: This is a story that has had our attention through multiple iterations, starting out as a shortfic of under 4,000 words before being expanded into the larger multi-chapter story it is today. We have Bradel to thank for introducing it to us: "I'm a sucker for a good AJ story and a good grief narrative, so this is in my wheelhouse."
"This is a story told in negatives," Present Perfect pointed out. "Applejack doesn't want to talk about what's really bothering her, so she talks about her first time planting a tree. Said tree wasn't an apple tree, but an oak. It's a story just as much about Fluttershy as about AJ, but it focuses entirely on the latter." Bradel put it thusly: "What I really love about this story is the tension between foreground and background. … Although the story never seeks to hide what it's doing, its impact is delivered through metaphor and implication rather than direct engagement, through paralleling Applejack's stories with her state of mind."
But what really sold the curators was the dynamic between this story's two main characters. "The meat of the story packs a punch, and the interactions between Fluttershy and AJ felt genuine," Chris said. "The real triumph is the conversation. Rather than drop the current setting to skip back into the past, Applejack's story-within-the-story is spoken, with fits and starts that make it feel naturally told without being unfocused," Present offered, and Bradel added, "I enjoy how the story forces Fluttershy and Applejack to trade roles — here, Applejack is the avoidant one and Fluttershy is the more direct one. I find all the narrative subversion going on in this story really delicious."
Read on for our author interview, in which Noble Thought discusses long commutes, character growth, and rewriting.
Continue reading →